AutoCheck Explained
Purchasing a used vehicle can require a great deal of research and patience. Not only do you have to establish the make and model best suited to your needs and budget, you then have to find the right match. AutoCheck can help you narrow your search and help give you peace of mind about the vehicle you eventually decide to buy.
Once you have found a vehicle (or multiple vehicles) all you need to do is to enter the registration number into AutoCheck and you will receive a comprehensive report about the history of the vehicle. As well as confirming if a vehicle has outstanding finance, is recorded as stolen or has previously been written off; there are lots of other possible pieces of information available about the vehicle, including:
If a vehicle is being traced by a third party and is at risk of fraud or theft
A full description including the make, model, colour, date of first registration, engine size and number, transmission and number of gears, body style and year of manufacture.
How many keepers the vehicle has had prior to the current keeper.
If it has mileage history recorded that we have received.
If it has had any colour changes.
If it has had any registration plate changes.
If it has been used and imported from outside the EU.
If it has been exported.
If the DVLA have it recorded as Scrapped.
CO2 Emissions.
Vehicle excise duty band and cost of 12 months tax.
Confirmation of the VIN.
---
How Does This Information Help You?
Last year 79,390 vehicles were stolen* and some of these can find their way back into the market. Unscrupulous sellers take the chance that most potential buyers do not carry out history checks on a vehicle they want to buy; they rely on a buyer getting carried away with a vehicle they desire at a "bargain" price. If you do buy a stolen vehicle then you will lose the vehicle and your money, so it pays to carry out an AutoCheck.
1 in 6 of the vehicles checked on AutoCheck** have outstanding finance agreements. Some people do not realise that they must pay for the vehicle in full before they can sell it, and others deliberately try to offload their debts. Either way the vehicle could be repossessed by the finance company if you obtain it before the finance agreement is cleared, you could lose that vehicle, and your money.
More than 450,000 vehicles were written off in 2020.*** Many written-off vehicles are repaired and returned to the road, but would you want to buy one without knowing? While some have only cosmetic damage,others sustain major damage and require skilled repairs. The value of a vehicle that has been written off can be significantly reduced. An AutoCheck will identify a written-off vehicle and the category details of any write off recorded, enabling you to make a knowledgeable decision about its suitability for purchase.
Do not risk your money or your safety, carry out an AutoCheck before you buy.
---
Step-by-Step Guide
Follow our simple steps below to receive your comprehensive AutoCheck report: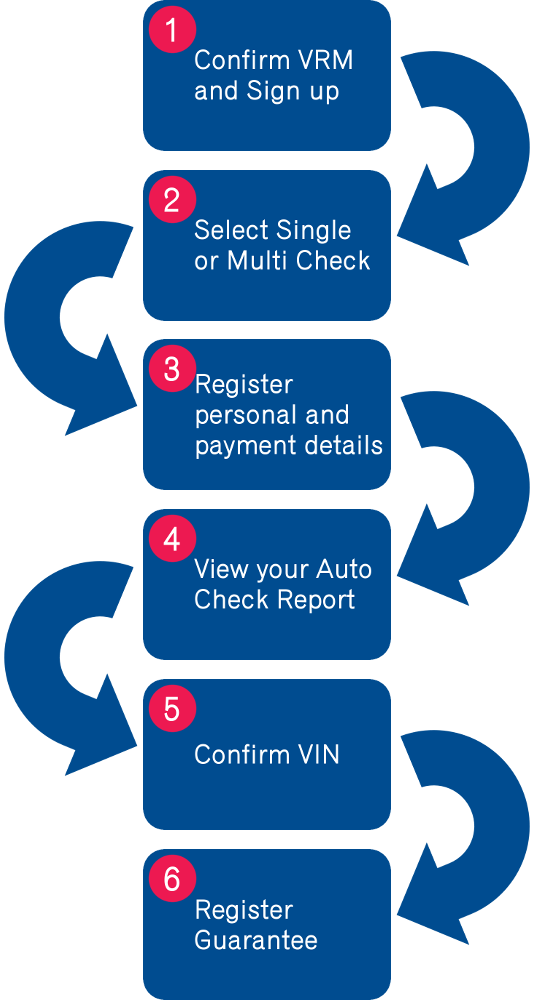 Once you have purchased an AutoCheck, you can return to the site at any time and log in using your e-mail address and password. Just click on 'View my previous checks' and you will be able to see all of the reports from the checks you have previously done, or you can click 'Perform an AutoCheck' to perform or purchase further checks. Please be aware you will need to re-enter your payment details as we do not store them for security purposes.
We'll send you regular e-mails to help you along the way, but if you need any help you can refer to our Useful Information pages and if the answer isn't there e-mail us at support@autocheck.co.uk
* Vehicles registered as stolen on the Police National Computer in 2020.
** Checks carried out on AutoCheck in 2020.
*** Vehicles registered as written off by Insurance companies and held on the Motor Insurers Anti-Fraud and Theft register in 2020.